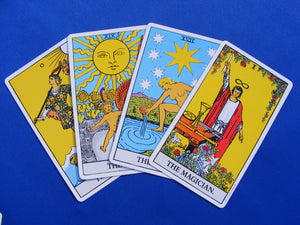 Tarot Contest 2022 for Full Students
Regular price $20.00 $20.00 Sale
2022 Tarot Reader Contest
How this works:
1. Everyone will be given the same submitted question from a real querent.
2. Every submits video readings to the judges by email. (You Tube video is ideal)
3. Readings are graded by the judges.
4. Consensus Top 3 were sent to the Querent. (prizes given to Top 3)
5. The Querent choses which reading resonated with their situation the most. 
6. That Reader is the winner of the Month.
7. After 4 months, an overall winner is selected.
Finals Round 1 - August
Finals Round 2 - September
Finals Round 3 - October
Final Round 4 - November
Winner crowned by the Winter Solstice
2021 winner was Susan Elizabeth from Australia.